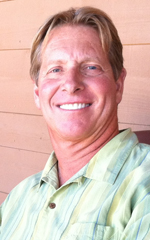 Keith Hughes established his building company in Arizona in 1994. Natives of Southern California, Keith and Linda Hughes settled in the beautiful city of Prescott to raise their young family and continue their reputation for building quality custom built homes. Since moving to Arizona, Keith and Linda have concentrated on the design and development of over 300 custom homes and select commercial projects. Building for over 20 years in the Prescott area has allowed Keith to cultivate lasting working relationships with local subcontractors and suppliers, ensuring a quality, value-engineered custom home.
Keith brings over 30 years of extensive development and building experience with a total build of approximately 800 custom homes and many diverse commercial developments. He has a clear vision of what it takes to get the job done. From concept to completion, Keith has excellent communication, coordination and scheduling skills with a record of timely project completion and budgetary control. We offer a complimentary site evaluation where we walk your property to discuss optimal building placement/exposure and rough infrastructure costs. As always, we build your home with the most energy efficient materials and methods available in the marketplace.
Keith and Linda's son, Doug, joined the company in 2015 as General Manager. He brings a fresh perspective, dedication and organizational skills that enhance the home building experience.
We offer free design consultation through our exclusive design partner, Lantana Design Studio LLC. They can assist you with your plans, our plans or help you create your own custom design. Located in our offices, Lantana Design Studio is able to work with you on all selections, specifications and sourcing.
Hughes Building Company has built all sizes and styles of custom homes, whether it be Prescott Ranch, Contemporary, Cottage, Craftsman, Farmhouse, Tuscan, Santa Fe or Lodge, from 1200 sq.ft. to over 6000 sq.ft., our commitment to quality remains the same. We understand and appreciate that this endeavor is all about you, your vision, your dream and we are here to make it happen for you!
Member of the Yavapai County Contractors Association